Rad News
5 Picture-Perfect Family Outfit Ideas for the Holidays
Nov 14, 2023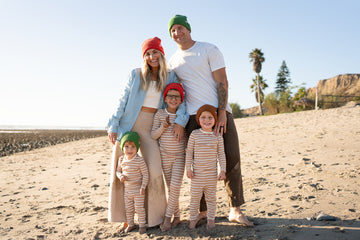 Take the stress out of styling your family - we'll help you keep everyone looking cute and under control for your annual photoshoot.
You reserved your family photographer months ago and now it feels like the family photoshoot date popped up on your calendar out of nowhere. One day it's the first day of school and the next you're packing up the Halloween costumes! Have you come across that meme going viral on Instagram - "I can't believe it's November already!" It's had us LOL'ing because seriously how is it November already?  When it comes to the annual family photoshoot, capturing those memories and looking your best can definitely feel stressful with the anticipation of making sure no one comes home from school with a runny nose, and finding those last minute outfits. Keep reading or scroll through to peep the pictures below where you'll find ideas (and direct links so you can easily add to cart) for five different looks. Plus, we've included a couple of tips at the end to help calm the chaos during the photoshoot so you can actually get those perfect holiday card pictures. You "only need one" right? Might as well make sure everyone is dressed to impress.
We've had some practice styling families for our own Rad River Co. photoshoots - and putting together looks that everyone can feel their best in doesn't have to be so overwhelming. Start by thinking of the location for your photos - if you're at the beach opt for a more casual look - you can't go wrong with bare feet and neutral tones, or if you're in a more rustic setting play up the cowboy vibes with some boots and festive flannels. Next, what will your family be the most comfortable in? There are plenty of cute cozy sets for kids this time of year…and if your little ones like to dress up, go for it, you'll want everyone to let their personalities shine. Our third tip is to decide on a complementary color palette - if you've already found a dress or fun outfit for yourself, a great place to start is to pull hues from there and then select the rest of your family's looks based off of those shades. As a bonus - if you're wanting to avoid an all matching look that can come off a little '1995 jeans and white shirts on the beach' - then mix things up! If dad is wearing jeans, maybe put one of the kids in a denim jacket and corduroy pants. 
For the 'snow birds' that flock to Mexico over the holidays, consider having your family photos taken in the dreamy location for an epic backdrop, just pack accordingly. We love incorporating fall colors, like rust with natural textures of linen to fit the tropical scenery.
If you're wanting to stick close to the coastline and skip the boardshorts, we love an elevated cozy look. Wear a maxi sweater dress, kick off your shoes and grab a couple of cute beanies for when the temps. drop at sunset - why not add a pop of color for the season too? Red is SO in this year.
Living in Southern California, we are certainly biased, but there are so many gorgeous hillsides and nature preserves in our own backyard. Can we all agree that the 'coastal country' trend is here to stay? Everyone loves a reason to stomp around in cowboy boots, so pair them with fun accessories to make your look feel pulled together.
Modern glam in a small coastal downtown - we can already picture the Christmas cards accented with gold foil. Get the whole crew dressed up, keep the photos candid strolling through your charming town, and plan something fun once the camera stops rolling (more on that below).
If getting all dolled up isn't the vibe this year, there's plenty of ways to keep it casual and still put together. Opting for a backyard moment or cozying up on the stairs at home in Uggs with a couple cute sets may just be the way to go that keeps everyone in an agreeable mindset.
In some cases it may be easier to pick out everyone's outfits for the family photoshoot, than to keep actually keep everyone happy and smiling when the time comes. One of our favorite pro tips for getting kids (and grown ups) to cooperate during the family photoshoot is to include props for your kiddos - carrying flowers or collecting shells in a small basket gives the kids something to do and creates special moments as a family. Having a quick meetup with your photographer ahead of time so they can meet the family before snapping photos may make your kids feel more comfortable seeing a familiar face during the photoshoot. Lastly, planning an outing afterwards is a fun "reward" for everyone - ice cream and happy hour at your favorite spot would be ideal. 
We would love to hear from you about what has worked well to keep your family photoshoots stress free (or at the very least, manageable)! Join the conversation below in the comments or on Instagram @RadRiverCo.